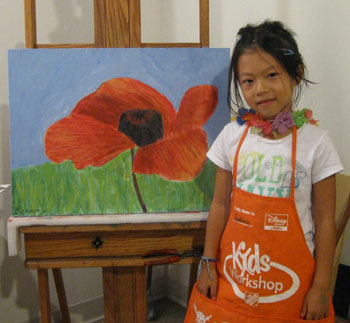 Calling all students – 6 to 96 !!!!!!!
A R T I N S T R U C T I O N
Offered by Karen Baker CPS, PSA, PSTB
Affordable private, semi-private, and group lessons year-round for
adults and mature young adults who want to learn the fundamentals of art and the creative process.
Also accepting home-schooled and the younger budding artist upon a free evaluation session of your child's ability level.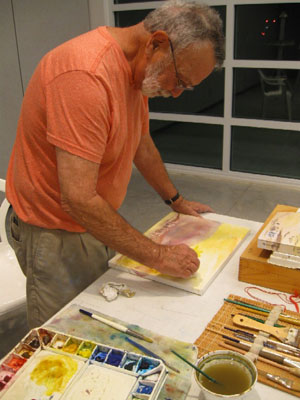 Private & semi-private two-hour lessons
for all levels of ability in my Dunedin Studio.
Beginner to advanced pastels, intermediate to advanced watercolors or acrylics.
Landscape, florals, still life, portraits, abstracts.
Contact me for available lesson times and rates. Discounts offered.
K Baker Studios
Stirling Art Studios
730 Broadway, 2nd Floor
Dunedin, Fl
727-366-6477
Contact Artist
www.kbakerstudios.com
www.stirlingartstudios.com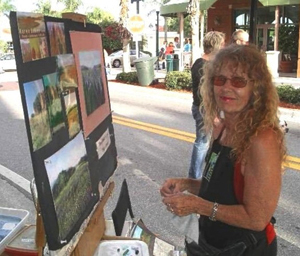 Karen Baker CPS, PSA, PSTB is an award-winning landscape and floral artist who has been teaching for over 30 years. She offers classes and workshops in the art of pastel painting and the creative process, landscape painting, mixed-media, and plein air painting. Her love for teaching includes helping students discover and express their creative "voice" through applied technique and self-exploration.

She studied drawing and mixed media with abstract artist Barbara Garber at Brattleboro Community College in Vermont, where she became passionate about the pastel medium and landscape painting. In the years that followed, she was mentored by Master Pastelist Herman Margulies, and has studied with noted pastelists Stanley Maltzman, Christina DeBarry, Elizabeth Apgar-Smith, Wolf Kahn, Albert Handell, and Larry Moore.

Awards include: 1st Place,TESA Annual Members Exhibit, Dunedin, Fl.; Honorable Mention, Landscape Category --Pastel Journal 14th Annual International Competition, 2013; Merit Award, Pastel Society of Tampa Bay Annual Members Exhibit 2013; 2nd Place in Pastel Category in ArtBuzz-The Book, which showcased her work in its 2012 international publication; Best of Show at the TESA Annual Members Awards Exhibit 2012 held in Dunedin, Fl.; Finalist entry award in the Landscape/Interiors category from The Artist's Magazine Annual Art Competition, 2004 & 2010; First Place at the TESA Annual Members Exhibit, Park Station, Pinellas Park, Fl., 2011; and a Merit Award for her painting "Incoming Tide" at the St Petersburg, Florida, plein air competition "Paint the Town" 2010.
As an active member of the arts community, she offers her talents and time to many civic art projects and fundraisers. She is a member of the Pastel Society of Tampa Bay, The Exhibiting Society of Artists, and the Vermont Pastel Society. She also holds signature membership with Connecticut Pastel Society and Pastel Society of America. A frequent exhibitor in regional and national shows, she is represented by galleries in New England and Florida..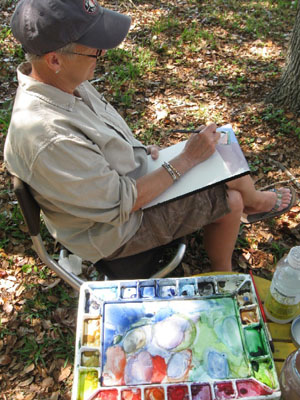 Dunedin Fine Art Center
Weaver Park Cottage Campus
1141 Broadway/Alt 19
Dunedin, Fl
727-298-3322
www.dfac.org
Monday Afternoons 1 – 4pm
"Painting the Florida Landscape Inside & Out"
Plein Air for All Levels & Mediums: 6-week course
Register through Dunedin Fine Art Center
Guided outdoor landscape painting sessions in the Dunedin area combined with indoor sessions.
---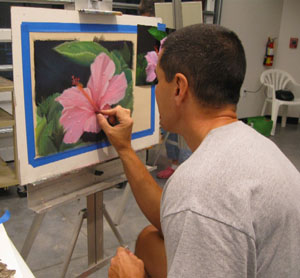 Wednesday Evenings 6:00 – 9:00pm
"The Art & Soul of Landscape Painting"
Intermediate to Advanced: 6-wk. course
Register through Dunedin Fine Art Center
Take your artwork to the next level. All media. Develop your own projects within an open-studio concept under the instructor's guidance. Instructor demos.
---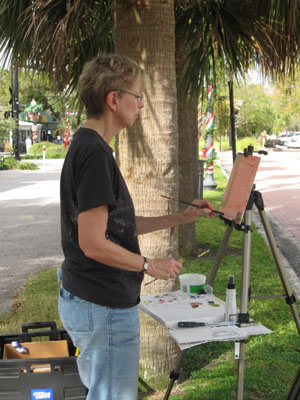 Morean Arts Center
719 Central Ave.
St. Petersburg, Fl
727-822-7872
www.moreanartscenter.org

Thursday Afternoon 1 – 3:30pm
Landscape Painting—All Media

Intermediate to advanced levels: 4 or 6 wk. course
Register through Morean Arts Center
This course will help you better understand and portray the elements of nature, with an emphasis on painting skies and water. Learn how to interpret photo references, identify the essence of your subject, create greater depth in the picture plane, depict light and shadow, and expand your use of color. Materials list available upon registration
---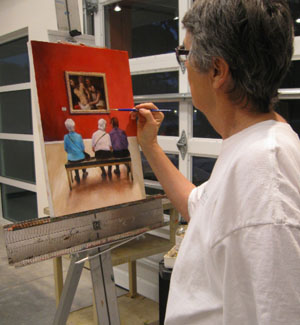 Specialized Workshops
1 to 4-day Sessions
Morean Arts Center
719 Central Ave.
St. Petersburg, Fl
727-822-7872
www.moreanartscenter.org
Painting on Location with Karen Baker
All Levels - All Media
Register through Morean Arts Center when offered
www.moreanartscenter.org
We will work outdoors at a location near the art center. Learn the "quick color study" method for recording information while addressing important issues that apply to any painting or drawing medium. Practice identifying warm colors in sunlit areas and cool colors in shadows while capturing nature's shapes, forms, movement, innate beauty and design. Learn a simple, no-fuss set up for the plein air experience. Bring lunch. Have a fun day creating in the open air.
---

New Vision Art Workshops
Instruction for Artists of Faith
This workshop is designed to help artists of all faiths to express the God-inspired inner visions of their creative souls. The class is currently open to the genres of landscape, still life, abstract expressionism, and figurative work as well as to all styles of painting and all media including pastels, acrylics, oils and watercolors. Participants of all levels of ability with a passion for the love of God are welcome to explore and express their creativity through guided prayer, meditation, and painting exercises, in both open-studio and on-location environments. Examples of workshop titles include The Creative Soul; Spirit Vision: Painting Your Inner Landscape; Earth Prayers-Heaven Poems; and I And My Father Are One.
As an artist and instructor, I believe God is revealing to His people greater visions of who He is and who we are in Him. Because I am a faith believer in the anointed, corporate body of Christ, I believe in the guidance and wisdom of the Holy Spirit. Visual artists of faith have a privilege and a responsibility to bring forth God-inspired images for service and purpose unto the wisdom of the Holy Spirit. It is my prayer and mandate to encourage artists to call forth those images He is imparting to us out of the body of Christ by faith. I believe God makes divine connections between artists of faith to join together and reveal through our artwork how great and how wise and how loving a God we serve.



The Mystery In Water


Eden

Transformation
Genesis 1:2
If you are interested in attending or sponsoring a New Vision Art Workshop, contact the artist or phone 727-366-6477
Vermont School Archived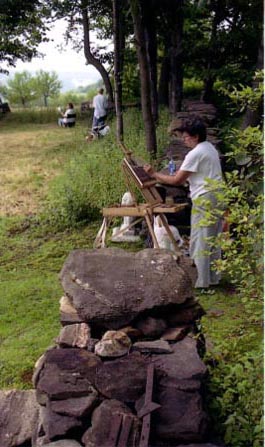 About the School...
The Vermont School of Art & Creativity was founded in 2002 by artist-instructor Karen Baker who has lived and painted in southern Vermont for 25 years. Baker is an award-winning landscape and floral artist who works primarily in the pastel medium and also loves teaching.

She believes the Vermont countryside with its rural architecture, meandering backroads, clear streams, open meadows, woodlands and mountain vistas is the perfect "outdoor classroom" for students who want to learn landscape painting. Working on location, she says, is relaxing and peaceful. When you tune into nature with all your senses, the end result is better picture-making.
The kind of instruction Baker and her associate-instructors provide puts the emphasis on learning not only technique but also how to connect with the art-making process. Instruction is designed for adults and serious young adults with all levels of ability. Beginners to advanced students can all benefit from the workshops. Students are encouraged to work at their own pace and to express their unique view of the world around them.
Summer programs, offered in July and August, focus on painting the rural landscape outdoors, known as plein air painting, as well as learning floral and still life painting from painting outdoors and in the studio. Students learn about painting on location, how to interpret landscape elements, how to render light and shadow, color mixing, and how to record impressions of nature with value studies and field sketches. Painting sites include ponds and woodlands, floral gardens, mountain vistas, and farmlands with weathered barns and open meadows.
For more information click here...